YOUTH MINISTRY
"Don't let anyone look down on you because you are young, but set an example for the believers in speech, in life, in love, in faith and in purity." 1 Timothy 4:12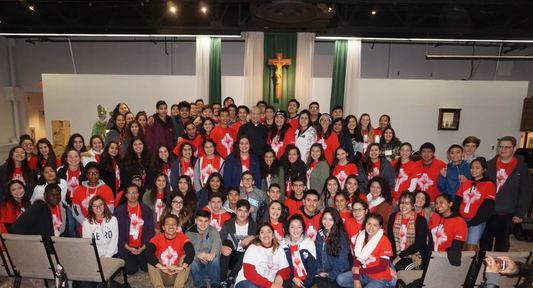 HIGH SCHOOL

THE JOURNEY is for high school teens who want to develop and enhance a spiritual journey through Christ, the Church and the sacraments. Each Thursday has various activities including music, movie & coffee nights while enhancing your journey with Christian Catholic fellowship, prayer, worship and scripture study.

What happens at The Journey?
The first Thursday of the month is Prayer and Pizza, is dedicated to prayer and scripture. We ask teens to bring their personal bibles so we may dive into the Word to deepen our prayer life. The night concludes with fellowship and pizza.

The second Thursday of the month, Java with Jesus when we introduce our month's theme in a coffee–house setting, so we provide coffee, cocoa and cookies. This night truly deepens faith and knowledge of Church teaching as adults, young adults and teens witness to one another.

Chillin' with the JC is the third Thursday of the month. This night we watch movies, play games while creating Catholic Christian friendships in our community.

The last Thursday of the month is ADORE!. We have live music for praise and worship, an inspirational talk and adoration of the Blessed Sacrament. This is a very spiritual night, filled with Jesus in the Eucharist, touching the open hearts of our teens.

---
---

Follow us on Instagram!
@stpatsjourney
---

Like us on Facebook
http://www.facebook.com/St.PatsYouthMinistry

---

Follow us on Twitter
@stpatsjourney

---

---